Brandi Fowler is the Founder of Destination Fab, a travel and lifestyle website that not only serves as a one-stop shop for travelers seeking advice on how to prepare for a trip to a particular destination (including what to wear, where to eat/drink, hidden gems, must-not-miss spots, etc.), but also highlights some of our favorite places and events in the various cities we visit in everyday life.
Brandi's love for travel, fashion, entertainment, and lifestyle led her to a career as a multi-media journalist in Los Angeles. After graduating from Duke University and obtaining a master's degree in broadcast journalism from the University of Southern California, Brandi went on to work as a writer and editor for E! Online, a contributing reporter and writer for InStyle Magazine and InStyle.com, a writer and host for AOL's Cambio, and has also contributed to the likes of the Travel Channel, MTV News, E! News, Citysearch, Australia's TheFIX and more as a writer, on-camera host, reporter, editor and/or producer. Currently, Brandi covers events for Instyle Magazine and writes fashion and entertainment news stories for InStyle.com.
Be sure to follow Brandi at @destinationfab and @brandilaren. And check out her latest Destination Fab article below on the hottest summer travel essentials.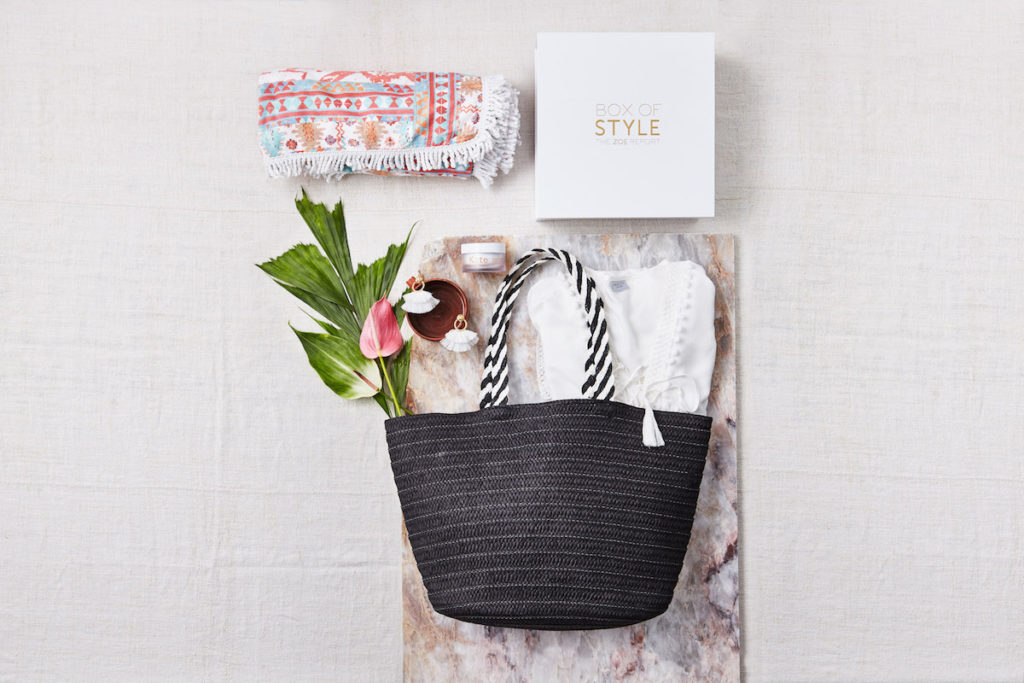 If you haven't been able to tell yet, we're a little obsessed with The Zoe Report's Box of Style. So, when the summer edition of the box dropped and it had a ton of travel essentials in it, we felt like stylist Rachel Zoe's squad made it just for us (and every travel-loving Destination Fabber).
"This season I've curated finds inspired by some of my favorite destinations—St. Barth's, the Hamptons, Positano and St. Tropez," Zoe said in a statement. "Each item can be mixed and matched with your existing wardrobe, styled for day or night and will look equally glamorous in your hometown or an exotic locale."
Yes. Please.
The box has everything from a Bindya lace-up cover up to a Rachel Zoe straw tote to white fringe For Love & Lemons earrings we'll be packing in our bag for every vacay this summer.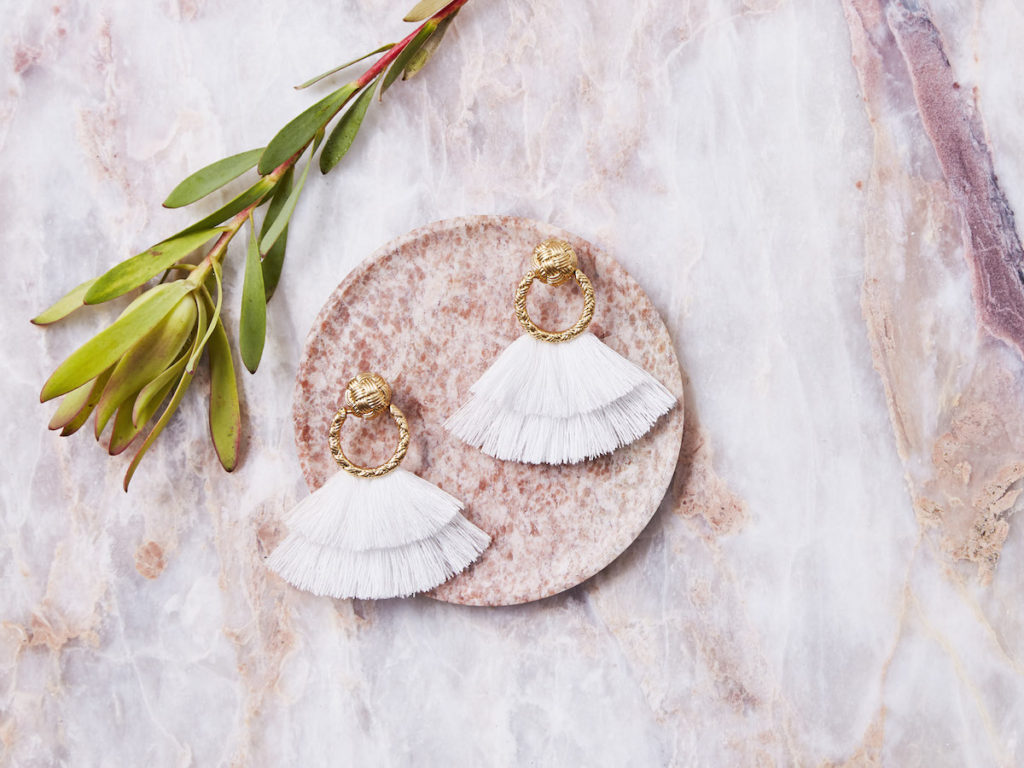 The For Love & Lemons Loop Fringe Earring, dubbed as "The Hamptons Earrings",  are from the brand's new jewelry line and top our list of fave things in the box. The fringe on the earrings make them a statement maker, but we think they're a staple piece for summer too because of their neutral color.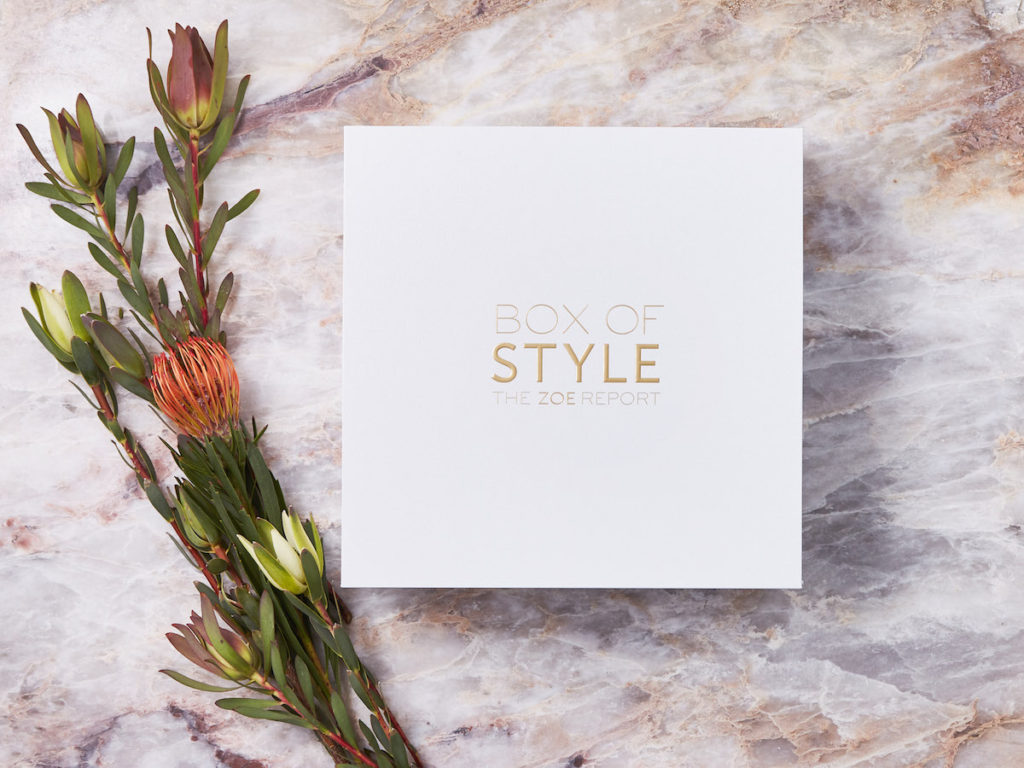 So, how can you get the Summer Box of Style? It's valued at $400, but is available for purchase for $99 or for an annual subscription of $349 (where you'll receive the rest of the seasonal boxes, natch) on the Box of Style site. If you want to take your box of goodies to the next level, you can also customize your delivery by selecting more summer staples to add to it.
All of those items are discounted too and include a 'Suntans & Sundays' bundle (with Beauty Counter Sunscreen Stick, Bonnie Clyde Sunglasses, LSTN Headphones, & Kopari Lip Love), 'Shades of Summer' bundle (with Sole Society Straw Panama Hat with Poms & Raen Black Sunglasses). and more.
Take a peek at the full box breakdown below and grab yours here.
THE HAMPTONS EARRINGS
For Love & Lemons Loop Fringe Earring
Retails for $63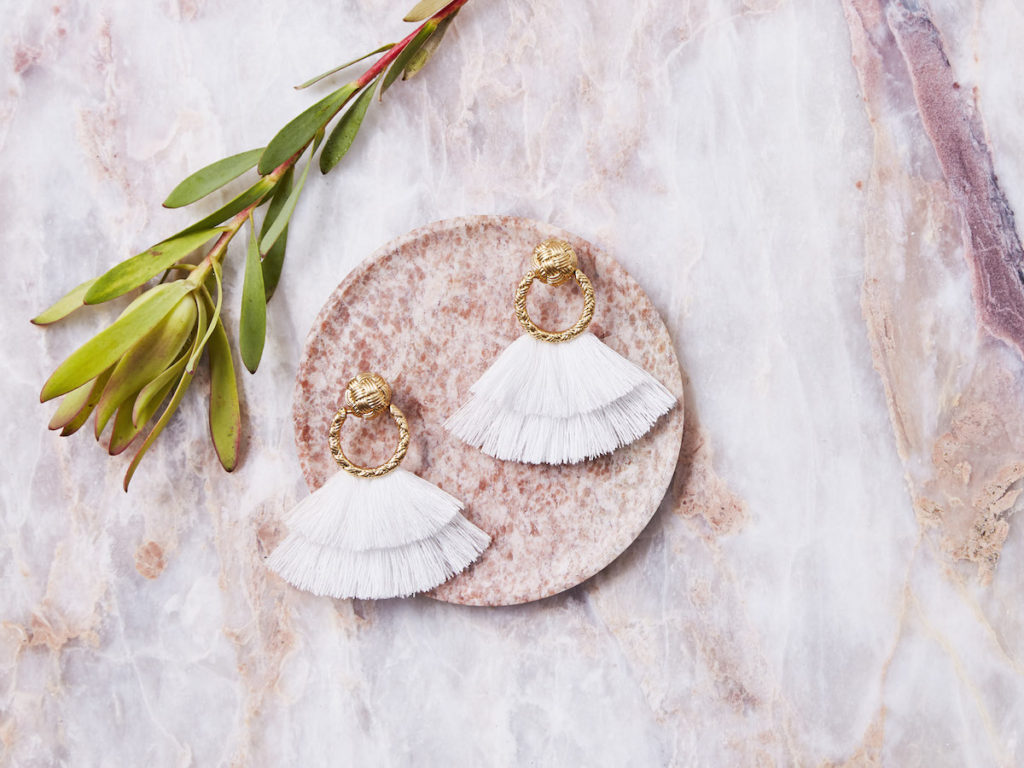 THE ST. BARTHS COVER UP
Bindya Lace-Up Cover Up
Retails for $115
All-white cover-ups scream summer, and we love this one because of its pom-pom detailing and lace-up neckline that give it an edge. Wear it to the beach – or that chic pool party you've been saving your best bathing suit for.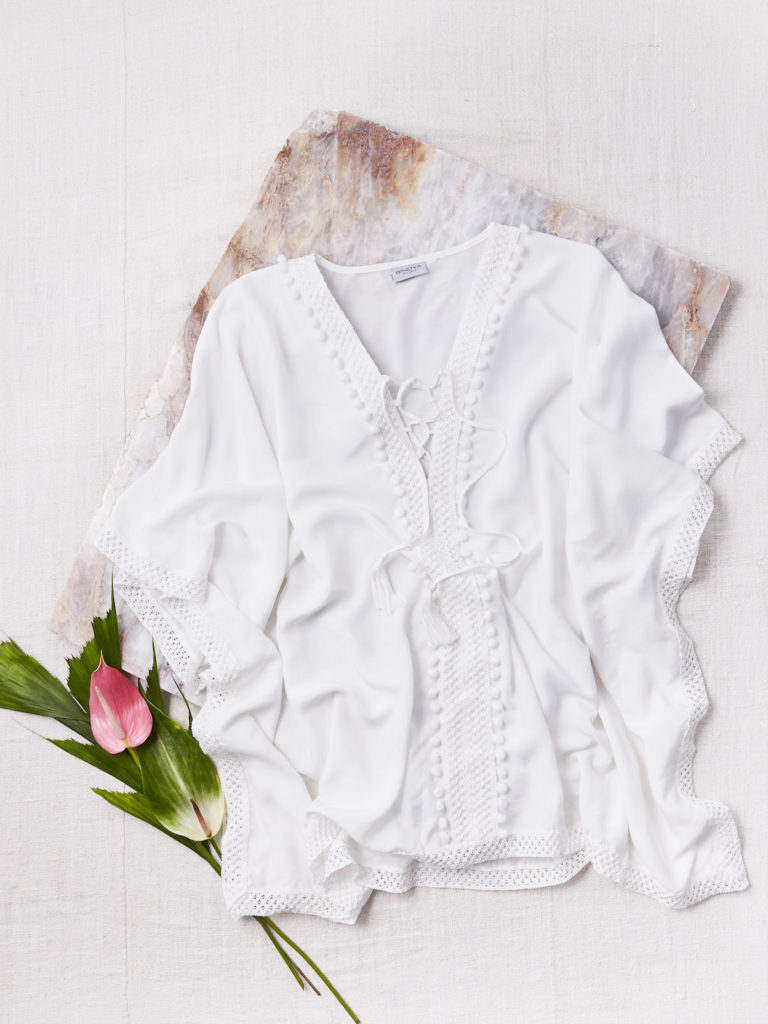 THE ST. TROPEZ TOTE
Rachel Zoe for Box of Style Straw Bag
Retails for $99
When summer hits, carrying a straw tote is a must. This one is not only roomy enough to fit all of our beach/pool essentials (sunscreen, towel, etc.), but this optic tote also features a black and white rope  handle that gives it a fashionable edge. "It reminds me of summer in St. Tropez," Zoe said.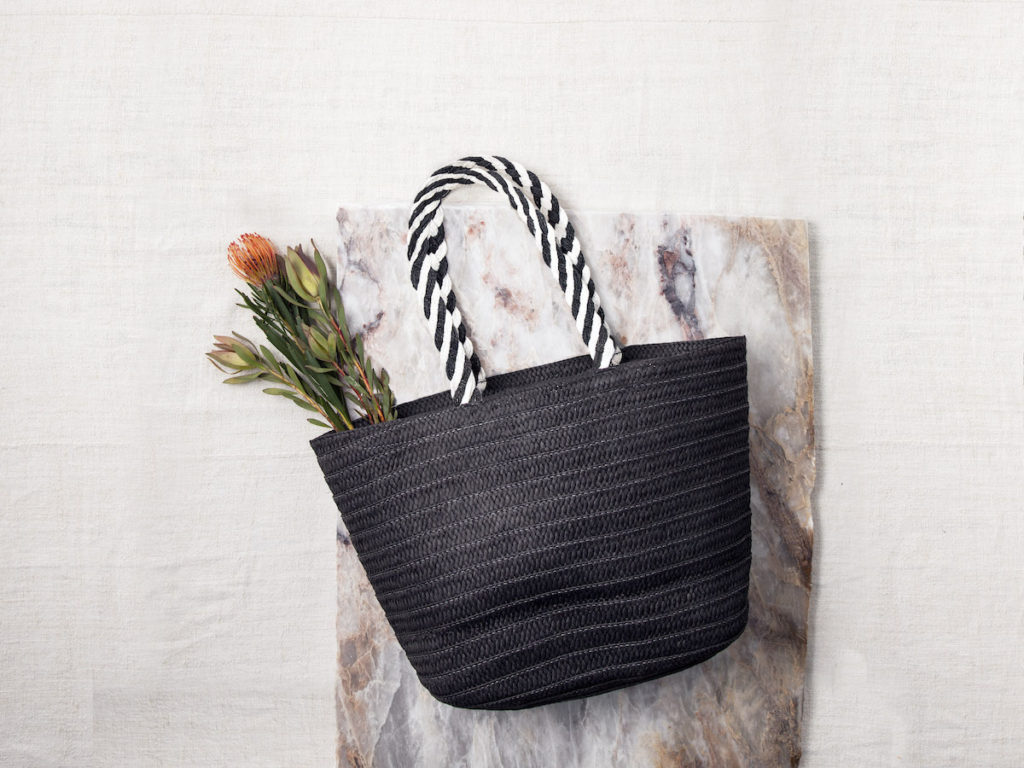 THE TRAVELING SKIN SAVER
Kate Somerville ExfoliKate Glow Moisturizer
Retails for $65
Kate Somerville's skincare products have gained a bit of a cult following, and with one application of this moisturizer, you'll know why. The ExfoliKate Glow Moisturizer is light, can be used during the morning and night, and will give you a refreshed – glowing- look.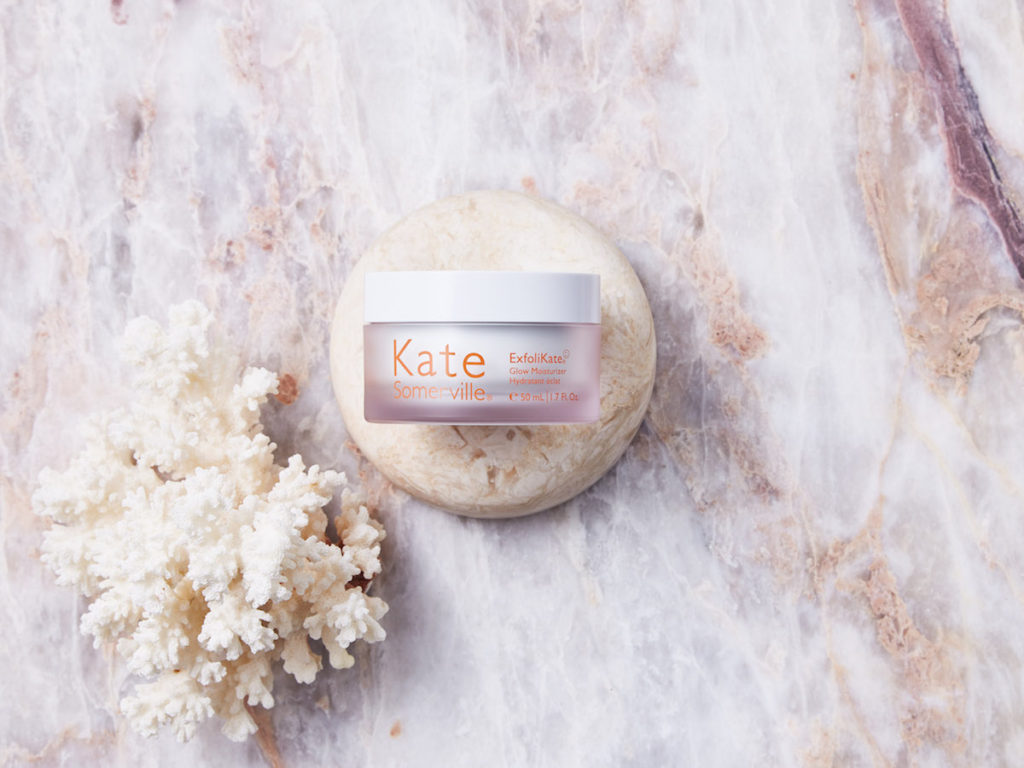 THE POSITANO TOWEL
Skova Travel Towel
Retails for $58
Whether you want to wrap this towel around yourself, throw it over your lounge chair, or use it for a picnic, the Zoe Report squad made sure these towels were big enough to do it all. Aside from the different ways we can use them, we also swooned over the prints on these Aperol and Bellini towels, which Box of Style members can choose between for their boxes.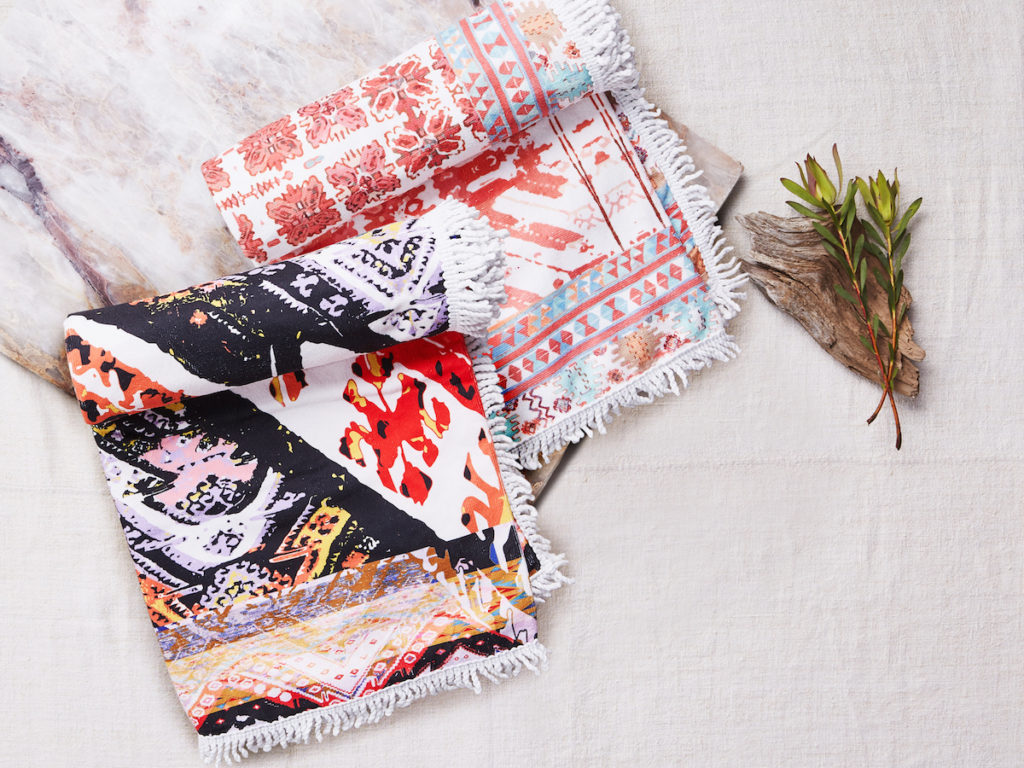 Anyone else excited to take these goodies on their next trip? Cheers to summer travel season!